Thanksgiving 2023 To-Do List
Thanksgiving is fast approaching! Are you hosting Thanksgiving this year? Are you prepared, or are you panicking inside? 
Many people find hosting the holidays in their homes to be extremely stressful. The Thanksgiving holiday is a time to give thanks for all that we have, and a time to be together with your family and friends. It's hard to enjoy yourself when you are so stressed and exhausted. 
Hosting for the holiday should only be as stressful as you allow it to be! By using our Thanksgiving To-Do List below, you can map out your tasks, keep organized, and host a peaceful, stress-free holiday. 
Click, download, and print the image below to get this Thanksgiving To-Do List working for you!
3 Weeks Before Thanksgiving:
Guest list: Make sure to create and finalize your guest list. How many guests are you having? How many children?

Menu: Plan out your menu and don't forget the appetizers and drinks. Are you making kid-friendly dishes? Assign dishes if your guests are bringing food.

Shopping list: make a list of all the ingredients you will need for every dish including spices.

Entertaining dishware: take inventory of all your serving dishes and utensils, tablecloths, napkins, chairs and tables 

Guest stay: plan meals and activities for your overnight guests. Map out the sleeping arrangements
1 to 2 Weeks 

Before Thanksgiving

:
Clean your home: Deep clean your home so that when getting closer to the holiday you will only need to spot clean

Prepare guestrooms: If you are having overnight guests prepare the bedrooms and bathrooms. Wash bedding, put out fresh towels, and stock up toiletries in the bathrooms.

Decor: Put up your Thanksgiving and fall decor

Rearrange Furniture

Create a Timeline / Cooking Schedule –USing the oven and storage in the fridge is challenging. 

Make Room in the Fridge and Freezer

Prep and Make Dishes That Can be Refrigerated or Frozen Ahead of Time

Plan Your Thanksgiving Tablescape

Create Seating Arrangement

Make Place Cards

Plan Kid's Table and Activities
1 Week 

Before Thanksgiving:
Thaw Turkey –

You should allow at least 24 hours for every 5 lbs. Clarify the amount of time you need ahead of time.

Last Grocery Run –

Purchase all perishable foods, fruits and veggies

Iron Tablecloths and Napkins

Take Out and Wash Fine China and Serving Dishes

Prepare Coffee/ Breakfast Bar

before guests arrive. Snacks, chips, and cookies can be set up in a basket ahead of time. Anything that is individually wrapped should be prepared ahead of time.

Spot Clean your home
1 – 2 Days Before Thanksgiving:
Clean and Chop Veggies – Chop up veggies and store them in ziplock bags in the fridge. This is a huge time saver when it's time to cook.

Set Serving Dishes Out the Night Before – make sure to have enough serving spoons and forks.

Use Post-it notes to label your platters to make platting the dishes easy and efficient.

Set Your Table

Set Up Drink Station

Prep Appetizers 
DAY OF THANKSGIVING:
Cook Turkey- check cooking instructions ahead of time

Make Dishes Not Prepped Ahead of Time

Reheat Dishes Made Ahead of Time

Stock the Drink Station
Remember… Thanksgiving is about being grateful for the ones you love. To have this opportunity is a blessing! Things can, and usually do go wrong while preparing, but remember what is truly important… your guests are not expecting perfection. They're only expecting to have a good time together. Be present in the moment, let go, and have fun!
Other Tips & To Do Articles: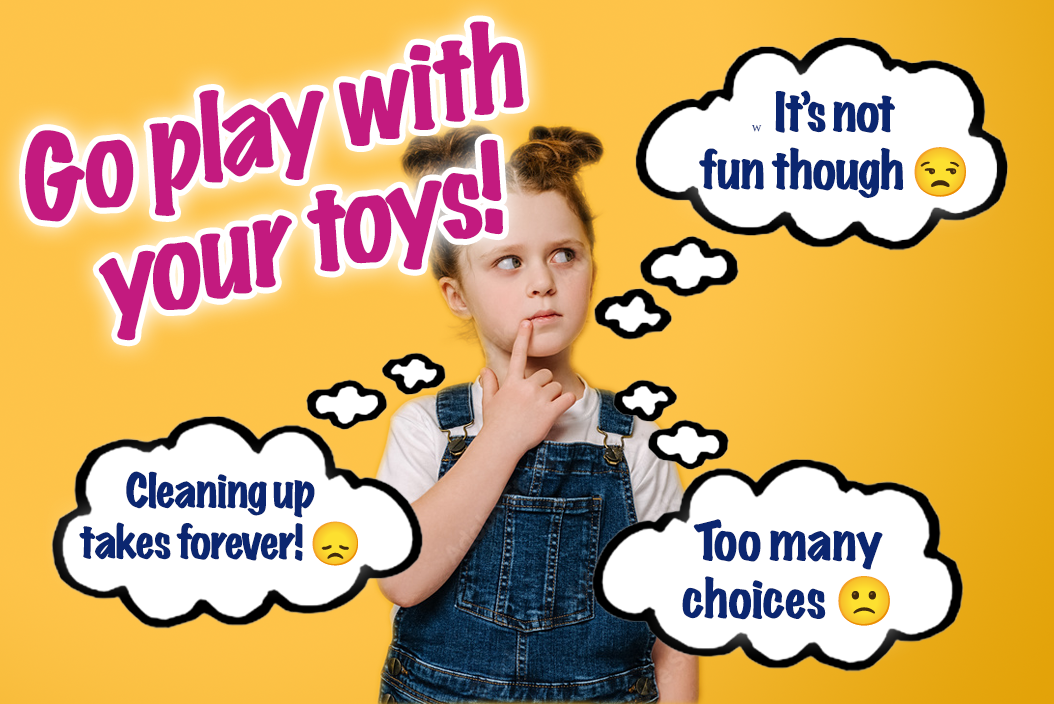 Toys on the floor, open markers, stepping on legos… those are a pain for many reasons, but, what most people don't know is how a messy playroom can restrict a child from expressing themselves creatively.
Read More »